2020: 'Selfies together in isolation' was a remote collaboration of artists making self-portraits, which were then discussed and shared via Zoom. The project was curated and hosted by Wayward member Gail Flockhart.
2017-2018: 'Dartmoor Visions' was a project developing work on the theme of Dartmoor, for an open call for work at RAMM.  This was developed further towards an exhibition including nine artists, held at the Museum of Dartmoor Life in Okehampton (Sept 2018). See exhibition photos.
2013-2015: Following a collaborative book-work on the theme of being undertaken in 2013, three of the participating artists progressed a project entitled The Imperfect Ideal.  During 2014-15, a number of works were developed consisting of: a series of photographic images, a set of oil paintings and a series of print works/life drawings.
Completed 2013: Seven members of Wayward collaborated in an art book project which was successfully completed in 2013. The art book, titled being was borne out of a desire to investigate the scope and limitations of drawing. 'Drawing' was interpreted by each artist exploring the boundaries of two-dimensional representation in its broadest possible terms. The result is a collection of individual artworks exploring the theme of being through print-making, photography, collage, painting and drawing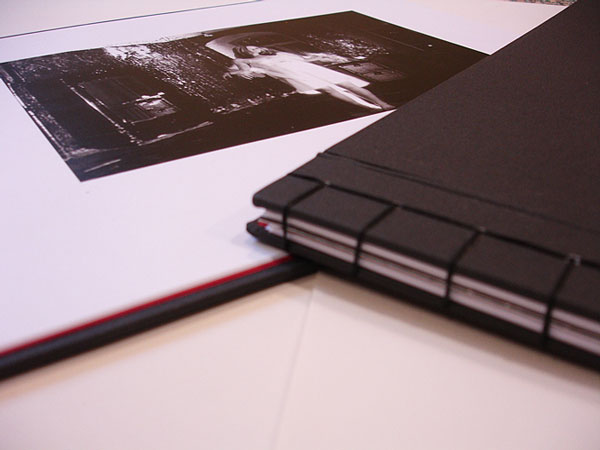 February 2011: Members of Wayward collaborated on a sound book Without Title, loosely interpreting the theme of 'being in the world'. This experimental composition was broadcast on Soundart Radio on 1st February 2011 and included contributions by Ron Andrews, Patricia Chu, Sue Coulson, Gail Flockhart, Gail Strong and Peter Messa.
You can listen to the 30-minute work below or download here.
February 2010: Wayward hosted a special discussion open to guest artists on Beckett and the soliloquy.
November 2009: Wayward initiated a collaborative art book project for its members on the theme of 'being in the world'. Eight unique hand-made books will each contain seven drawings by seven different participating members.
March 2009: Trading Places. Further work from Wayward members relating to walks along Exeter's riverside, located in the public areas of the Exeter Natural Health Centre.
December 2008: Boxed Set. Shown in three cabinets within the foyer of Exeter's main library, the responses of seven Wayward artists to a local walk. The route took in Exeter's historic quayside, its riverside park and the nearby Marsh Barton trading estate. More details
October 2008: Several members of Wayward took part in River Bovey Walk. More details
July 2007: Corner of Moments. Wayward and guest artists collaborated in a show to mark the closure of Exeter Campus of the University of Plymouth, former home of the fine art department.
July 2007: Two Wayward artists showed work on the Bluebird Trail at Kenton Vineyard, near Exeter, curated by Ebb & Flow.
February 2007: Fatherford Walk. Two Wayward members were among six artists who took part in a day-long walk along the East Okement valley and made work in response to their experiences. Some 220 visitors attended the resulting show at Belstone Village Hall.
February 2007: Wayward artists met with the Ultimate Symposium philosophy group in Teignmouth for an art/philosophy discussion day on the theme 'What weight should aesthetics have in contemporary art?'
November 2006: Six members of Wayward exhibited together for Exeter Open Studios, using the Clifford Fishwick Gallery, University of Plymouth, Exeter as their base. More details
October 2006: Wayward artists joined other artists in The Big Draw at the Museum of Dartmoor Life, Okehampton. Photographs here.